KentDoors.co.uk supply, install, service and repair a wide range of floor springs and floor spring accessories from manufacturers such as Dorma, Geze, Briton, Peter Jackson, Axim, Gibbons, Newman Tonks, Jebron, Speedy and Mab.
A floor spring is a hydraulic door closer mounted in the floor directly under the pivot point and is completely concealed within the ground and then covered by a metal plate in either stainless steel finish or brass. Choosing a floor spring involves the consideration of door weight and width, fire regulations, resistance to opening force (for the disabled or infirm). Both 90 degree hold open (not to be used on fire doors) and non hold open options are available.
We stock a large range of makes and models suitable for various applications. We can also source many other manufacturers floor springs and accessories if required.
Dorma BTS 75V
EN 1-4
Max door width:1100mm
BS8300/ADM compliant: Min fire door width 767mm (at EN 3)
Max door weight: 120kg
Adjustable closing force
2 valve control of closing speed
Fixed backcheck
Adjustable sweep speed
Adjustable latching speed
Delayed action option
Successful independent testing to BS EN 1154
CERTIFIRE approved for fire doors CF127 ITT60/MM/IMM240
CE Marked
Optional mechanical hold-open
Dorma BTS 80
EN 3/4/6
Max door width: 950mm (EN 3) 1100mm (EN 4) 1400mm (EN 6)
Max door weight: 300kg
2 valve control of closing speed
Fixed backcheck
Adjustable sweep speed
Delayed action
Adjustable hold-open
Successful independent testing to BS EN 1154
Dorma BTS 80 F, EMB, FLB
EN 3/4/6
Max door width: 950mm (EN 3) 1100mm (EN 4) 1400mm (EN 6)
Max door weight: 300kg
2 valve control of closing speed
Fixed backcheck
Adjustable sweep speed
Delayed action
Adjustable hold-open
Successful independent testing to BS EN 1154
BTS80 F/FP
BTS80 EMB electro-magnetic hold-open (CERTIFIRE approved and CE marked)
BTS80 FLB free swing (CERTIFIRE approved and CE marked)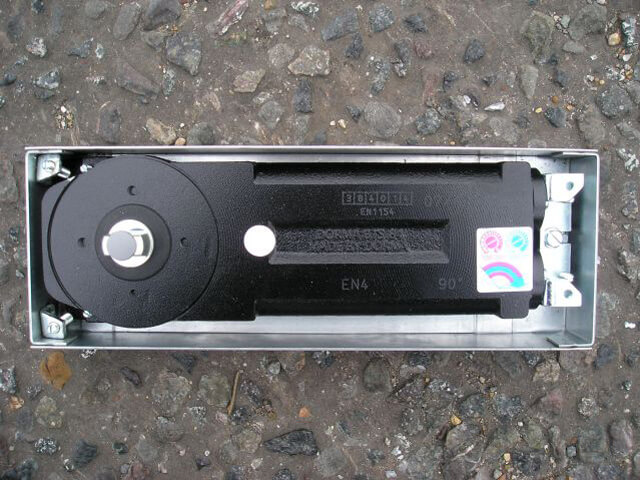 Dorma BTS 84
EN 2/3/4
Compact and resistant hydraulic spring
Closing speed can be adjusted by two independent valves
Tested to EN 1154
CE marked
Optional hold-open
Geze TS 500 N EN3/NV
Floor-mounted door closer for single and double action doors with reduced depth of 42mm. For leaf widths up to 150kg and up to 1100mm width. With flat-tapered, interlocked spindle, for left and right handed doors, with cement box, controlled closing from approx. 175°. Without cover plate, without bottom strap and top centre.
Closing force size 3 or adjustable size 1-4 to EN 1154
Back check
Adjustable closing speed
Ajustable latching action (TS500 NV)
Safety valve preventing deliberate overloading
Closing range from approx. 175°
For right and left hand interior single action and double action doors
For doors up to 950mm and 1100mm wide
For doors weight up to 150kg
Geze TS 550
Floor spring for interior single and double action doors up to 1250mm wide with flatcone spindle, adjustable closing force, back check, selectable hold-open and galvanised steel concrete box.
Adjustable closing force from outside, size 2-5 to EN 1154
Back check
Adjustable closing speed
Safety valve preventing deliberate overloading
Closing range from approx. 175°
Galvanised concete box
Selectable hold-open (80° – 120°)
Models:
Standard
Sealed
Delayed Action
Adjustable Latching Action
Fixed Hold-Open
Non Hold-Open
Electro-Hydraulic Hold-Open
Integrated Door Selector
Speedy KS 3000
Maximum door width 1200mm
Maximum door weight 120 Kg
Two valve control of closing speed
Adjustable sweep speed
Adjustable latching speed
Successful independant testing to BS EN 1154
Speedy M25
Maximum door width 1400mm
Maximum door weight 200 Kg
Two valve control of closing speed
Adjustable sweep speed
Adjustable latching speed
Successful independant testing to BS EN 1154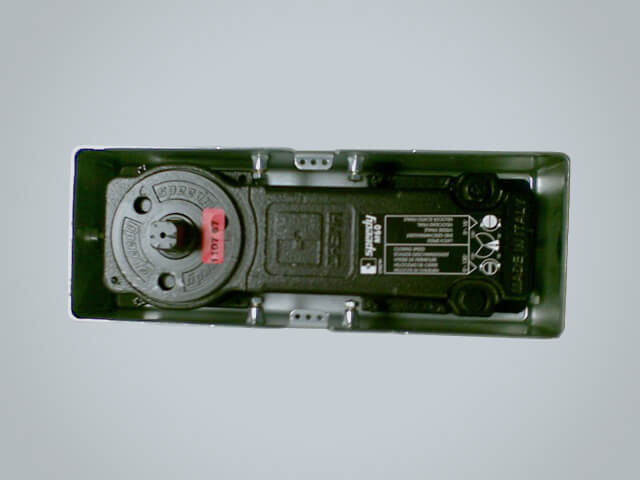 Speedy M60
Maximum door width 1200mm
Maximum door weight 160 Kg
Two valve control of closing speed
Adjustable sweep speed
Adjustable latching speed
Successful independant testing to BS EN 1154
3550 Floor Spring (Commando)
EN 1-6
Closing speed control
Power size adjustable
Hold–open option
Delayed action
Suitable for door mass up to 400KG as standard
Cast iron body for heavy duty performance
Stainless steel and steel precision manufactured internal components
Successful independent testing to BS EN 1154
2950 Floor Spring (Cavalier)
EN 1-4
Closing speed control
Power size adjustable
Hold–open option
Delayed action
Suitable for door mass up to 400KG as standard
Cast iron body for heavy duty performance
Stainless steel and steel precision manufactured internal components
Successful independent testing to BS EN 1154
MAB 750
EN 3-6
Max door width 1400mm
Max door weight 300Kg
Adjustable closing Force
2 valve control of closing speed
Fixed backcheck
Adjustable sweep speed
Adjustable latching speed
Delayed action option
Successful independent testing to BS EN 1154
Optional mechanical hold-open